Russian GP: Valtteri Bottas cashes in to win after Lewis Hamilton penalty
27 September 2020, 13:44 | Updated: 27 September 2020, 18:15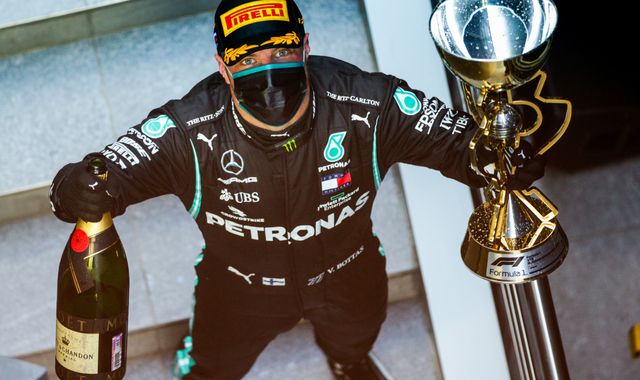 Valtteri Bottas profited from a 10-second penalty for team-mate and championship leader Lewis Hamilton to end his wait for a second win of the 2020 season in the Russian Grand Prix.
Hamilton, the polesitter, went into the race under investigation for making two practice starts from the wrong place in the pit lane on his reconnaissance laps to the grid, around 35 minutes before the grand prix started.
Full Russian Grand Prix result
Hamilton slams penalties: 'They're trying to stop me'
Hamilton's penalty points rescinded
Huge crash causes F2 race abandonment
The world champion was handed two five-second penalties from stewards on lap eight, which he then served in the pit lane before his lap-17 pit stop. He also had two further penalty points added to his licence - although they were later rescinded by the FIA.
The delay dropped the Englishman, who could have equalled Michael Schumacher's F1 wins record, to 11th although he still salvaged a podium with third place.
"What happened?" asked Hamilton over the radio when told of his double penalty. "Where is that in the rule book?"
In his post-race interview with Sky Sports F1, a visibly-frustrated Hamilton claimed "they're trying to stop me, aren't they" in relation to the stewards.
Max Verstappen dropped behind Bottas at the start from the front row and thereafter could not challenge Mercedes in his Red Bull and finished second, although took solace from beating Hamilton.
Sergio Perez finished a season-best fourth for Racing Point, overtaking Daniel Ricciardo in the first stint with a fine move around the outside at Turn Four.
Ricciardo was fifth on the road and stayed there despite having five seconds added to his race time for not correctly observing track limit re-entry rules at Turn Two when he overtook team-mate Esteban Ocon.
Ocon had moved up to fourth on the first lap but struggled for pace thereafter and was beaten to sixth by Charles Leclerc's Ferrari.
The Safety Car was called on the opening lap for two incidents, the first when Carlos Sainz misjudged his entry to the track around the blocks at Turn Three and slammed his left-front tyre into the wall, and the other when Lance Stroll was spun around at Turn Four by Charles Leclerc.
Leclerc escaped penalty for that incident and thereafter raced very strongly to sixth place, splitting the faster Renaults, on an afternoon that Ferrari team-mate Sebastian Vettel again struggled and finished a lapped 13th.
Russian GP Top 10
1. Valtteri Bottas, Mercedes
2. Max Verstappen, Red Bull
3. Lewis Hamilton, Mercedes
4. Sergio Perez, Racing Point
5. Daniel Ricciardo, Renault
6. Charles Leclerc, Ferrari
7. Esteban Ocon, Renault
8. Daniil Kvyat, AlphaTauri
9. Pierre Gasly, AlpaTauri
10. Alexander Albon, Red Bull
What happened to Hamilton?
It had already been an eventful weekend in Sochi for Hamilton, who was nearly knocked out in Q2 in qualifying and then faced the stewards for a track limits transgression at Turn Two on Saturday evening.
Hamilton was also on a less favourable starting tyre strategy compared to Bottas and Verstappen, who were able to start on the more durable medium tyre compared to the polesitter's faster softs.
But what happened before the race had even started on Sunday was ultimately the undoing of the six-time champion's victory hopes.
As usual, the race directors' notes to teams dictated where drivers were allowed to make their practice starts in the pit lane before heading to the grid.
But whereas the designated area for such starts in Sochi was on the "on the right hand side" of the pit lane after the exit lights, Hamilton and Mercedes twice contravened this by making his starts further down the slip road.
"Art 36.1 requires drivers to use constant throttle and constant speed in the pit exit other than in the place designated for practice starts," said the stewards, who issued Hamilton with separate 5s sanctions."
Hamilton and his race engineer, Peter Bonnington, had discussed where he could do his starts over the radio:
Hamilton: "It's all rubber here, can I go further out?
Bonnington: "Affirm.
Hamilton: "To the edge of the pit wall?
Bonnington: "Yeah, copy, leave enough room for cars to pass."
While the stewards reviewed video evidence as the race got underway, Hamilton successfully fended off a challenge from Bottas on the long run down to Turn Two and held a lead in the region of one second over his team-mate either side of the Safety Car before heading to the pit lane for his elongated stop.
Hamilton questioned several times why he was stopped so early and, in one exchange with Bonnington, replied: "I don't want any info anymore Bono, it doesn't make any difference."
While the world champion was quickly back into the top five and ultimately the podium positions as midfield cars then peeled into the pits, Verstappen had a tyre advantage and Hamilton finished 15 seconds behind the Red Bull and 22 seconds away from Bottas.
(c) Sky Sports 2020: Russian GP: Valtteri Bottas cashes in to win after Lewis Hamilton penalty