James Harden matches career high with 61 points in Houston Rockets with over San Antonio Spurs
23 March 2019, 06:18 | Updated: 23 March 2019, 07:55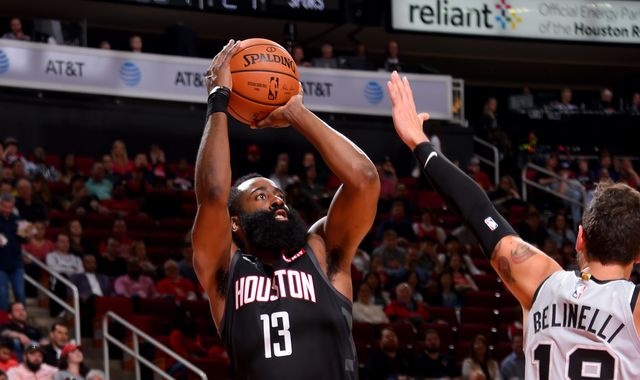 James Harden matched his career high with 61 points to lead the Houston Rockets to a 111-105 home victory over the San Antonio Spurs.
Harden started the game strongly and was on hand to deliver late as the Rockets coughed up a 19-point lead.
MVP-favourite Harden produced an otherworldly individual performance, tallying 27 first-quarter points on 7-of-10 shooting to pace the Rockets' 36-point period.
He scored 10 of Houston's 13 points during one stretch midway through the period, and after assisting on an Iman Shumpert three for a 26-17 lead at the 4:12 mark, recorded the final 10 points of the frame for the Rockets.
The Rockets led by 19 points in the third quarter, but the Spurs battled back to take an 85-84 lead with 10:54 left in the game. They extended that advantage to 100-94 with 4:13 remaining, but Harden responded with three successive three-pointers and a pair of drives to the basket to bail out the Rockets.
His show-stopping performance secured Houston's third consecutive win over the Spurs.
Harden, who also scored 61 points on January 23 at Madison Square Garden against the New York Knicks, finished 19-of-34 from the floor while drilling 9-of-13 from three-point range. He padded his stat line with seven rebounds and three steals.
Harden's performance was his second consecutive 50-point game and eighth on the season. No other NBA player has more than one.
Speaking on court after the game, Harden said: "I'm happy we won. We gave up a terrible loss last game and wanted to bounce back. The Spurs are a great team. We played four quarters of great basketball.
"You've got to be locked in and have the mindset to be in 'attack mode' every night. That what I was in tonight."
Click the video at the top of the page to watch Harden erupt for a career-best-equalling 61 points.
Want to watch the NBA but don't have Sky Sports? Get the Sky Sports Action and Arena pack, click here.
(c) Sky News 2019: James Harden matches career high with 61 points in Houston Rockets with over San Antonio Spurs