Liverpool car park blaze forces horse show to be cancelled
31 December 2017, 20:23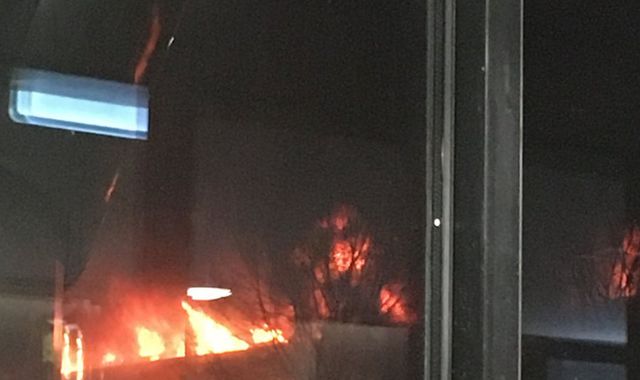 Horses and their handlers had to be evacuated from a multi-storey car park next to Liverpool's Echo Arena on New Year's Eve because of a large fire.
Crowds were gathering for the final evening of the four-day Liverpool International Horse Show when the alarm was raised at about 4.40pm.
The show has been cancelled, though no injuries have been reported.
Some horses had been on the first floor of the car park at King's Dock.
Vehicles on at least two floors have been destroyed or damaged in the fire, which is being tackled by 12 crews whose efforts are being hampered by strong winds. A number of explosions have been blamed on car fuel tanks going up.
Mersey Fire and Rescue Service said the car park and some apartments nearby had been cleared of people while crews battle to bring the fire under control.
A spokeswoman for the Echo Arena said: "We regret to announce that the Liverpool International Horse Show has been cancelled tonight due to a serious fire in the multi-storey car park on site.
"All people and horses are safe and secure.
"We are working alongside the emergency services to ensure the fire is brought under control and to make the site safe as quickly as possible."
Mayor of Liverpool Joe Anderson said in a tweet: "Arena Car Park fire... have been told everyone safe and no animals hurt... seems a land rover went on fire on the 3rd level, horses on 1st the horses have been evacuated to Arena. Will give more news about tonight ASAP."
He later added: "If anyone has transport and willing to help people who are stuck because of tonight's fire get home (Especially if you have a minibus) - Can you please call 01512330023 and speak to my office."
(c) Sky News 2017: Liverpool car park blaze forces horse show to be cancelled