PSG v Real Madrid: Guillem Balague previews Champions League last-16 second leg
5 March 2018, 12:34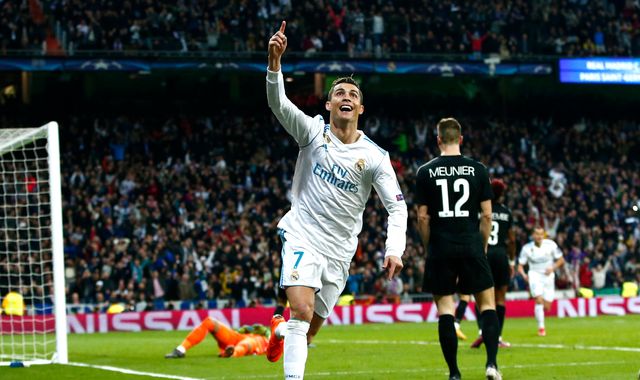 Paris Saint-Germain may be trailing 3-1 going into their Champions League last-16 second-leg clash with Real Madrid, but Guillem Balague says the tie is still in the balance.
PSG host current European champions Real on Tuesday evening with that vital away goal, but without the injured Neymar in Paris, meaning they will likely turn to former Manchester United man Angel Di Maria.
Sky Sports' Spanish football expert Balague believes PSG will have enough chances to hurt Real, who have been struggling for form in La Liga.
Zidane's dilemma
There's an interesting decision for Zinedine Zidane with Luka Modric and Toni Kross both coming back, but I think it will be just one of them to play because it has been a few weeks since they featured.
Marcelo is definitely back and he played a few minutes at the weekend so it looks like Gareth Bale, Marco Asensio and Lucas Vazquez will have to play for three positions.
I think Vazquez will play and it will either be Asensio or Bale, but if Bale plays, he will play on the left-hand side. It will be a 4-4-2 but he is not guaranteed to start. Interestingly enough, Isco may not even be guaranteed to start.
Resting Ronaldo
Ronaldo continues to be the best goalscorer ever and now he is choosing his moments, he did it last season and it worked well for Real Madrid.
He has scored 14 goals in the last eight games and he has only completed one full game of the last five so they are obviously resting and preparing him for the big battle against PSG.
No Neymar, no chance?
You have to say, Real Madrid know how to play these games but there is a sense at PSG that even without Neymar, they have a very good chance.
The spirit of the team is stronger, and Di Maria has a point to make. He has only played 67 minutes in the Champions League this season because if Neymar is playing, he doesn't start.
But he is in double figures, he's scored 13 goals in total and has double figures for assists too. I think this PSG is even more compact without Neymar. He tried to do too much in the second half against Real Madrid so this is not over at all.
Final verdict
Real Madrid always give you a moment where you can take the game away from them and PSG can certainly do that.
It is impossible to predict but I think PSG have got a very good chance of coming through against a Real that switch on and off; you don't always get away with that when you're playing against an elite team like PSG.
Follow PSG v Real Madrid with our dedicated live blog from 6.30pm on Tuesday evening on SkySports.com.
(c) Sky News 2018: PSG v Real Madrid: Guillem Balague previews Champions League last-16 second leg