Phil Taylor plays Rob Cross in World Darts Championship final on New Years Day
31 December 2017, 19:46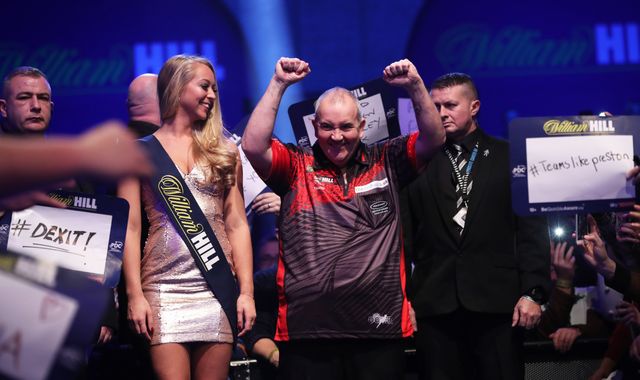 A sensational 2018 World Darts Championship will get a fairytale finish one way or the other as the legendary figure of Phil Taylor takes on debutant Rob Cross.
In a tournament full of shocks, the intertwined storylines of The Power and Voltage bear a number of similarities, but no matter who emerges with the Sid Waddell Trophy on New Year's Day it will go down as a storybook ending.
Cross is playing in his first World Championship, Taylor is appearing in the 21st final of his 29 World Championship appearances and The Power claimed his maiden world title on his debut back in 1990 - when Cross was just seven months old.
One player is in his first year as a professional, the other in his last. One is a 27-year-old at the start of a promising career, the other a 57-year-old at the end of a legendary career that has taken him to the very top of the sporting world.
As everyone now knows Taylor is playing in his last professional as a tournament, fittingly it's the World Championships - the tournament he has won on no less than 16 occasions, the last coming in 2013 with victory over Michael van Gerwen.
He has only lost four finals at event , to Dennis Priestley, John Part, Raymond van Barneveld and Gary Anderson in 2015.
In contrast, Cross is making his World Championship debut, 12 months having watched the 2017 Championships preparing to embark on his first year as a professional, and he can barely have imagined what would unfold.
Four PDC Tour floor titles followed, as he built a debut year unlike any previously seen. Rather than buckle his season got stronger, reaching a first major TV final at the European Championship and following it with runs to the last eight of the Grand Slam and last four of the Players Championship.
He entered the World Championships 20th in the Order of Merit and has risen to number six on the back of his run to the final.
Now he faces Taylor in the richest match in the sport's history, the legendary figure playing his last match as a professional and enjoying the ultimate finish so far in his run to the final.
Story so far......
With seeds scattered from the opening night it is perhaps no surprise that the sixth and 20th seeds are the final men standing at Alexandra Palace. That they are Cross and Taylor means that despite no Van Gerwen, Anderson, Van Barneveld or Wright, the tournament has a truly fitting finale.
The pair have earned their place in the sport's showpiece. Cross has been involved in arguably the three matches of the tournament, surviving match darts to beat Michael Smith in the second round, withstanding a Dimitri van den Bergh comeback to win 5-4 in the quarter-finals.
Then his spectacular victory in one of the tournament's all-time great matches against defending champion Van Gerwen. The contest, which was the longest of Cross's brief professional career, saw both men win 27 legs and combine for a semi-final record 31 maximums.
Voltage eventually won 6-5 in an 11th set, 11th leg sudden-death decider and surviving six missed match darts from MVG.
Taylor has enjoyed more serene progress, but with every match potentially the last of his career he has had to ride an emotional wave every night.
Having seen off Chris Dobey in his first match, he then beat pantomime villain Justin Pipe with a seething Ally Pally crowd letting the Force know what they thought about his coughing antics against Bernie Smith.
The Power's toughest test came again Gary Anderson, the two-time champion struggling with a back injury and never at his best as Taylor advanced to his showdown with surprise semi-finalist Jamie Lewis. The Welshman missed darts to win four different sets as The Power punished the preliminary round qualifier at every moment for a 6-1 win and a place in the final.
In their own words....
The 2018 World Championship from Alexandra Palace reaches its dramatic conclusion on New Year's Day with the final live on Sky Sports Darts, coverage gets underway from 8pm
Keep up to date with the news as the PDC celebrates 25 years on Sky Sports, right through to the final on New Year's Day. Get all the latest at www.skysports.com/darts and join in the conversation @SkySportsDarts- don't forget to use #LoveTheDarts
(c) Sky News 2018: Phil Taylor plays Rob Cross in World Darts Championship final on New Years Day