Joe Root, Steve Smith and Michael Atherton among those to criticise MCG pitch
30 December 2017, 08:05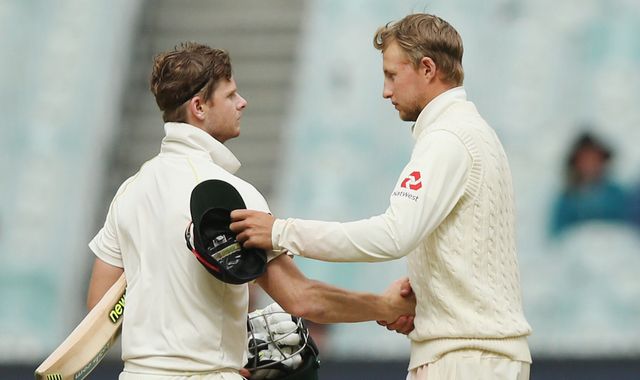 A draw in Melbourne has ensured that England will not suffer the ignominy of back-to-back Ashes whitewashes in Australia but their hopes of forcing a first win Down Under since 2011 were dashed by a combination of Steve Smith, David Warner and a lifeless MCG pitch.
Smith and Warner undeniably showed great patience to keep the England bowlers at bay but, in truth, that was all that was needed on a pitch as slow and flat as you are likely to see.
It is a testament to the bowlers on both sides that as many 24 wickets fell across the match but, at its conclusion, the main focus was on a pitch that led the highly-anticipated, iconic Boxing Day Test becoming a rather dour, uninspiring affair…
Steve Smith, Australia captain
"I don't think it was a great cricket wicket. It was flat, it was hard to get out, but it was also hard to score runs. It's a bit of a pity really.
"Hopefully they can find something to do with this wicket, Boxing Day is a huge occasion and I don't know if many people want to come and see one of those flat tracks every year. So maybe if they put some grass on it or try and get it to spin somehow it will give something to the bowlers."
Joe Root, England captain
"It's as flat a wicket as you'll see. It is frustrating that we have not managed to force a win. We did everything we could do on a very flat wicket that was not offering the bowlers very much at all.
"There was no pace and no spin and if we played for four (more) days it would be exactly the same. Credit has to go to our guys for taking the wickets we did."
Bob Willis, Sky Sports pundit
"It was dead as a dodo, totally unsatisfactory. We are trying to keep Test cricket at the top of the tree and a pitch like that won't do anything to help it.
"It was very batsman-friendly but it wasn't that easy to play shots on, while it didn't deteriorate at all and there was nothing in it for seam bowlers or spinners at any stage. It was a turgid, flat nothing which you might have seen in Pakistan 40 years ago - no use to man or beast.
"We are going to see more drop-in pitches as stadiums become more and more multi-purpose but we certainly don't want one like that. I hope we never see the likes of it again in Test cricket. It is key there is a balance between bat and ball."
James Anderson, England bowler (after day one)
"You'd think that the 90,000 people that turned up today don't want to see 244-3. People want to see entertaining cricket, especially in an iconic game like the Boxing Day Test match at the MCG. People want to see exciting cricket.
"We did our best. We didn't bowl great in the first session so we didn't add to the excitement, unless you are a David Warner fan. But [in the] second session, we did all we could on that pitch. I know it wasn't exciting to watch, it wasn't exciting to play in, to be honest.
"It's that attritional style of cricket but there's not a lot we can do about from here. That's the pitch we've got for the next five days and we've got to put up with it."
Alastair Cook, England opening batsman
"It doesn't happen that often these days. There are a lot less draws in Test cricket because wickets do tend to have a bit more in them.
"People will criticise the wicket but preparing cricket wickets is not an exact science. There's a lot of things that go into it and it's also a bit of a lottery. I'm sure the groundsman would have liked it to break up a little bit more than it did, but it didn't."
Michael Atherton, Sky Sports pundit
"In truth, it was a poor match, dominated by the bat. A good Test match is about a balance between bat and ball and the point of a Test over five days is that there should be some change and deterioration in the conditions, but we saw virtually nothing.
"There was nothing in it for the bowlers at all. The pitch looked unscarred on the fourth and fifth days - it is true we didn't see a top-class spinner bowl, Moeen Ali is short of confidence and Root and Malan are part-time bowlers but I'm not even sure that a top-class spinner would have got much out of this surface."
Stuart Fox, Melbourne CC chief executive
"While this Test pitch did produce a good contest, it has not contained the pace and bounce that we expected.
"As the game progressed, the surface did not deteriorate nor bring the level of unpredictability that was anticipated. We review all elements of our performance at the conclusion of every event, and the quality of the pitch is no exception.
"We will take on board feedback from the players, umpires and cricket bodies, as well as our own observations. Our new head curator, Matthew Page, will take on pitch preparation duties in the coming weeks and we look forward to his input.
"Overall, we remain confident and determined to produce portable wickets that generate entertaining Test cricket. Portable pitches have been used at the MCG for more than 20 years and drawn Tests have been a rarity in that time."
(c) Sky News 2017: Joe Root, Steve Smith and Michael Atherton among those to criticise MCG pitch