Ryanair sees profits climb but remains cautious on fares
5 February 2018, 08:16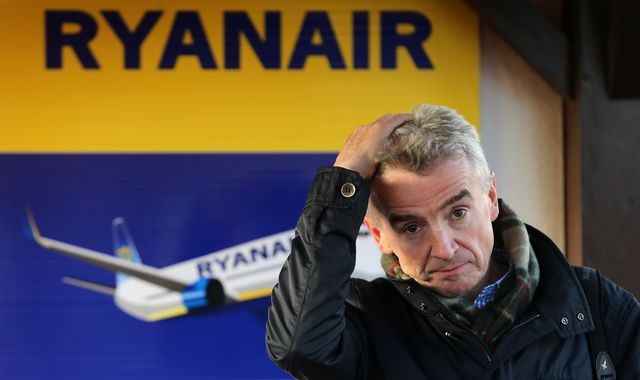 Ryanair has reported a 12% rise in quarterly profits in a "very challenging" period - but said it was less optimistic than rivals about the prospect of putting up prices for customers this summer.
The Irish carrier said post-tax profits climbed to €106m in the three months to the end of December as passenger numbers rose and costs fell but average fares also took a dip.
Earnings were up despite the airline facing a turbulent period when it cancelled thousands of flights due to a pilot shortage and averted Christmas strikes with the last-minute recognition of unions.
But chief executive Michael O'Leary said he was more cautious than rivals about the outlook for the industry over the summer.
He added that union recognition "may add some complexity to our business and may cause short-term disruptions and negative PR".
The update comes a couple of weeks after easyJet sounded a positive note about the market as others - including Ryanair - struggled.
Easyjet also pointed to the collapse of Monarch, Air Berlin and Alitalia as helping to buoy up prices, in what is now a less crowded market.
However Mr O'Leary said: "We do not share the optimism of competitors and market commentators for summer 2018 fare rises.
"Very early indications are that summer 2018 fares will remain under pressure.
Mr O'Leary also reiterated the airline's caution over Brexit, and fear over the risk of serious flight disruption if there is no UK-EU aviation agreement by September this year.
He said the lack of clarity on Brexit "continues to overhang fares and pricing on routes to/from the UK".
Mr O'Leary added: "We would, even at this early date, urge extreme caution on investor and analyst assumptions for fares."
Shares fell by more than 2% while easyJet lost 0.7% following the cautious outlook.
(c) Sky News 2018: Ryanair sees profits climb but remains cautious on fares