Redrow chief: Homebuilders are not land banking
7 February 2018, 20:41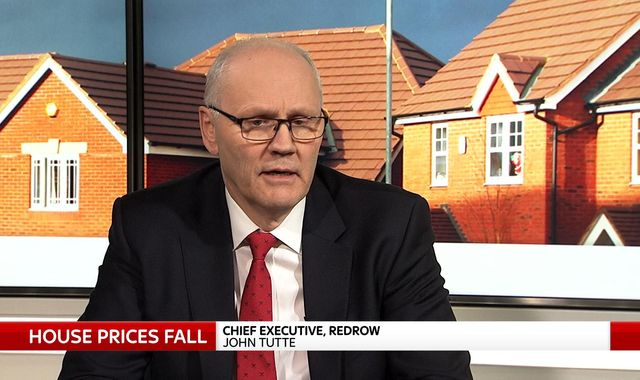 The chief executive of Redrow has hit back at claims that developers are "land banking".
John Tutte's words come a few months after Chancellor Philip Hammond announced an urgent review, chaired by Sir Oliver Letwin, to look at the gap between the number of planning permissions and houses being built.
At the time, Mr Hammond said: "In London alone, there are 270,000 residential planning permissions unbuilt - we need to understand why."
He added that, should the review find land being withheld from the market for commercial reasons, the government may intervene.
But Mr Tutte told Sky News' Ian King Live show: "There's no financial incentive for us to either sit on land or build slowly.
"We're certainly happy with our position and we're pretty confident that the review being undertaken... will show the industry is not land banking."
Instead, Mr Tutte pointed the finger at the planning system, saying: "That's where the drag is."
Regarding possible government intervention, he added: "It's the use it or lose it - that's what they're saying. One would have to say: does that mean the land or the planning permission?
"I think it would be very difficult for the government or local government to come in and buy land.
"But I can see that they could perhaps impose some planning conditions that would ensure you try to get through the site by saying that, for instance, you've got five years to build on the site, otherwise you'll lose the planning permission, or it will be renegotiated.
"It's one thing looking at building rates but the other important thing is, in a business like ours, we have to make sure it's sustainable going forward.
"So if we've got a site closing, we've got to make sure we've got a replacement site on stream so, therefore, that's got to get through the planning system.
"These things go hand in hand."
Redrow reported pre-tax profits of £176m for the last six months of 2017, an increase of 26%.
The company built 2,811 homes, 14% more than the same period the previous year.
Meanwhile, house prices fell by 0.6% in January, following December's fall of 0.8%, according to the UK's largest lender, Halifax.
On an annual basis the cost of homes was up by 2.2%, the slowest rate of increase since July last year.
(c) Sky News 2018: Redrow chief: Homebuilders are not land banking