The New England Patriots came back from a 25-point deficit to beat the Atlanta Falcons in overtime and win Super Bowl LI.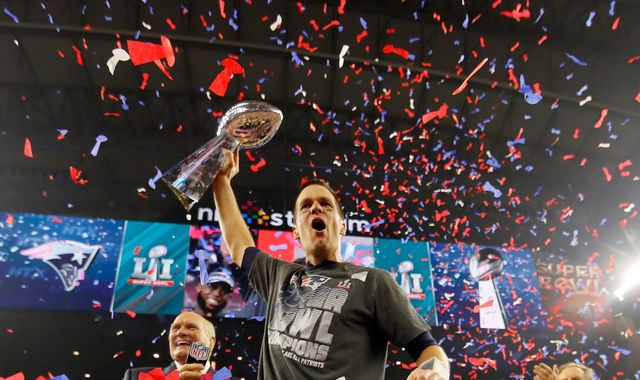 Patriots quarterback Tom Brady - who was suspended for the first four games of the season for his role in the "Deflategate" scandal - threw for 466 yards and two touchdowns as he won his and the team's fifth championship in Houston.
The Falcons offence has scored three first-half touchdowns to open up a 21-point lead, including an 82-yard interception return from cornerback Robert Alford, and scored again in the third quarter.
But Brady inspired a New England comeback, scoring 19 unanswered points in the fourth quarter to tie the score at 28-28 and force the first overtime in Super Bowl history.
New England won the toss to receive the ball and, after a 75-yard drive, James White ran the ball in from two years to secure the win.
Brady becomes the first quarterback with five Super Bowl rings and was named Super Bowl MVP for a record fourth time.
He said: "You know, we all brought each other back. We never felt out of it. It was a tough battle.
"They have a great team. I give them a lot of credit. We just made a few more plays than them."
(c) Sky News 2017: New England Patriots clinch thrilling comeback Super Bowl LI win