Alastair Cook became England's longest-serving captain in an age when cricket's attention span got shorter and its grip on the public imagination weakened.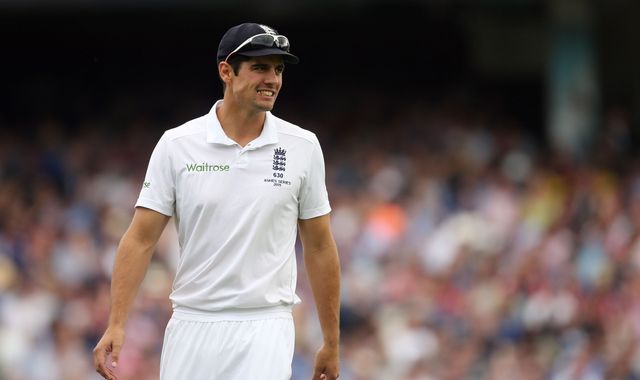 He did so thanks to virtues that seem to belong to another era: consistency, reliability, stoicism and loyalty.
Allied to a voracious appetite for scoring runs, often in the toughest of circumstances, and an intensely private nature, it made him perfectly equipped for Test match cricket and the perfect company man.
They dream of captains like Cook at Lord's. Reliable, robust and successful, and only likely to be seen out before dawn during the lambing season on his farm.
And if sometimes, particularly at the start of his reign, he seemed to lack the imagination and instinctive flair that might change an hour, a day or a game, it did not seem to matter to his teammates, who backed him even at his and the side's lowest ebb.
Cook was not perhaps a natural for the unique demands of Test match captaincy, a job that demands constant tactical and strategic awareness, but from the start he showed he could handle it while maintaining the form that has made him England's leading run-scorer as well as most durable leader.
In keeping with his career he emphatically passed his audition. Given the chance to lead England in Bangladesh in 2010 he scored two centuries and won both Tests.
He had to wait another two years to get the job full-time, following the retirement of Andrew Strauss, but continued as he had begun.
Three centuries while leading a victorious tour of India in 2012 was perhaps his greatest achievement, but such is the status of the Ashes, victory over Australia in 2013 eclipsed it.
That was the first instalment of back-to-back Ashes series, and the return proved his toughest tour and greatest failure, one that many argued could have ended his tenure.
Australia flattened Cook's England 5-0 on home turf, a fast-bowling battery led by Mitchell Johnson inflicting physical and psychological bruises in a first Test defeat from which they never recovered.
Behind the scenes the tour was descending into chaos, with Cook unable or unwilling to prevent relations between coach Andy Flower and Kevin Pietersen descending in acrimony.
The fallout was brutal. Pietersen was discarded but the team's outstanding talent and highest profile player did not go quietly.
For a while the game seemed divided and facing a choice between the best player and a captain who had just led England to humiliation.
The ECB did not blink and stuck with Cook.
Pietersen's spectacularly inflammatory autobiography which strafed his enemies (but not Cook) made that decision easier to justify, and Flower was moved aside.
The team moved on and another Ashes series was won in 2015, Cook again giving thanks for his fortune in leading a side blessed with outstanding fast bowlers in Stuart Broad and James Anderson.
Since then however there has been a sense of drift.
Eight Test matches were lost in 2016, four in a row in India, which is too many for a squad of the talent England possess.
Cook found himself leading a team of young, adventurous players precisely the product of the modern age, and it will fall to the best of them, Joe Root, to lead them.
Cook steps down as the most capped Englishman (140, 59 as captain) having won 12 out of 17 series as skipper, and the leading English run-scorer (11,057) with power to add.
Even in the age of Twenty20, Test match batting still takes the qualities that mark him as a man, a player and a leader.
Root and England will have cause to be grateful to him yet.
(c) Sky News 2017: Alastair Cook: An old-fashioned leader in a modern age